Wine, France, history and railway. These four things together give you an incredible result. Especially when it is in N scale. One of the most unusual and beautiful type of wagons, I've ever seen is an old french Foudre and Bi Foudre barrel wagons.

There were no good models for these wine wagons in N scale. Some models by Trix were made very rough and not realistic. My aim was to try and show all the beauty and an unusual design of old barrels on steel wheels and they had to be brass models. First of all it was necessary to do some research. If I was going to build a true model I must be sure about all the details: inscriptions, numbers, dimensions and colours.
Unfortunately I didn't know french and I cannot read french railway models forums. But I got a lot of old photographs and drawings and I want to send special thanks to people from cparama.com forum, www.wineterroirs.com and forum.e-train.fr for collecting these photographs and making them public.

First, I have built 3D models of three different types of barrels for double-barrel wagons and for single-barrel wagons (1300 and 2000 litres). Then moulds were crafted and a first batch of barrels created.
A little bit of history
According to some reports, this type of car, Wagon Foudre, appeared in France in 1854. Obviously, where else it could be built! A lot of wine was produced in France, the railways were developed and the problem of delivering large quantities of wine was solved by using such an elegant car. Half wagon with a wooden barrel sitting on metal platform of the chassis. Over time, during the beginning of the twentieth century, three types of such barrel wagons were developed. Bi-foudres wagon, with two barrels installed on a two-axle platform; an average volume of 8,000 litres; a single barrel, volume of 13,000 litres; or a single large barrel, up to 20,000 litres. Maybe it depended on the design and carrying capacity of the platforms and chassies themselves, or on the needs of the wine manufacturer.
Of course, all the barrels were made by hand and their capacity fluctuated slightly. Basically, from the wine regions of France, these wagons went to large cities, there at the transfer stations, from wagons the wine was transferred into smaller barrels and delivered to the places of its consumption. Such wagons had a great importance, they were able to transfer a large amount of wine during the First World War. Wine trains were sent to the front lines so that French soldiers did not feel deprived of this Nectar of the Motherland.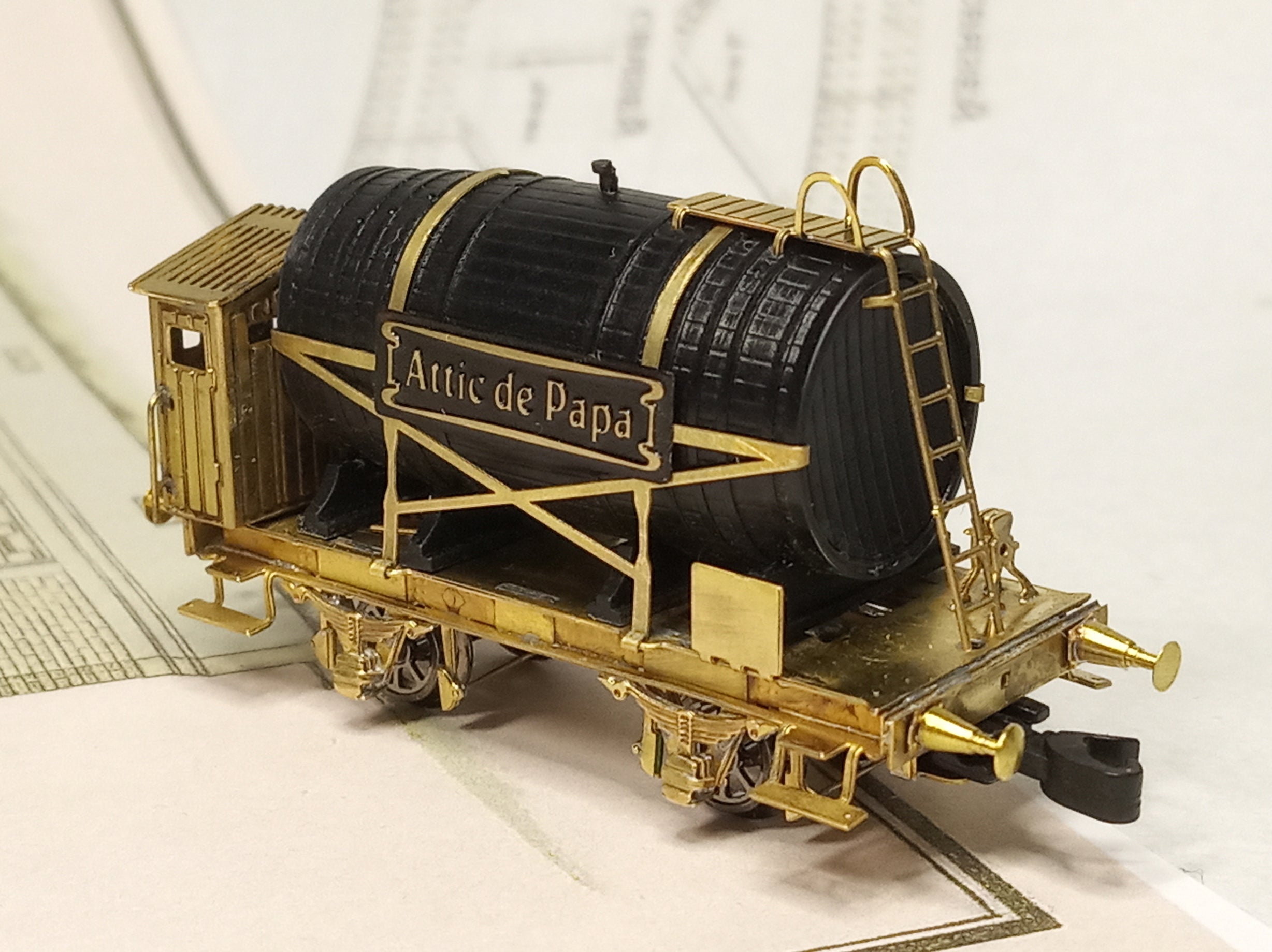 Our first batch of foudre barrels went out in May 2017, about half a year of research, development and crafting. These wagons were based on Bachmann chassis with crafted brass top sides, accessories and moulded barrels.

Based on the success of the first batch, second batch of foudre wagons was released in February 2018. Still based on Bachmann chassis wagons were supplemented by converted PLM steam engines (130AT27).

After three and a half years Attic de Papa is happy to present to our clients second generation of foudre wagons. Chassis are fully designed and developed by our team and made of brass. The level of details and accessories is outstanding!
For over 5 years Attic de Papa designes and builds outstanding wine (foudre) wagons in brass for N scale collectors and enthusiasts